89 Falun Gong Practitioners Sentenced January through April 2020
A 73-year-old woman is sentenced to seven years while another gets six years without a hearing among the persecution cases against Falun Gong practitioners in April.
The month of April 2020 saw another 13 Falun Gong practitioners being sentenced for their faith, bringing the year's tally to 89, including 41 in January, 18 in February and 17 in March.
Falun Gong, also known as Falun Dafa, is an ancient spiritual and meditation discipline that has been persecuted by the Chinese Communist Party (CCP) since July 1999. Many practitioners have been subjected to arrest, imprisonment, torture, forced labor, and even organ harvesting for their faith.
The 89 sentenced practitioners are from 14 provinces and centrally-controlled municipalities. Liaoning Province topped the list with the most practitioners sentenced (15), followed by Hebei (14). The rest of the regions reported single-digit sentencing cases ranging from 1 to 9. Due to the information blockade, especially during the coronavirus epidemic, the actual sentencing cases are expected to be higher.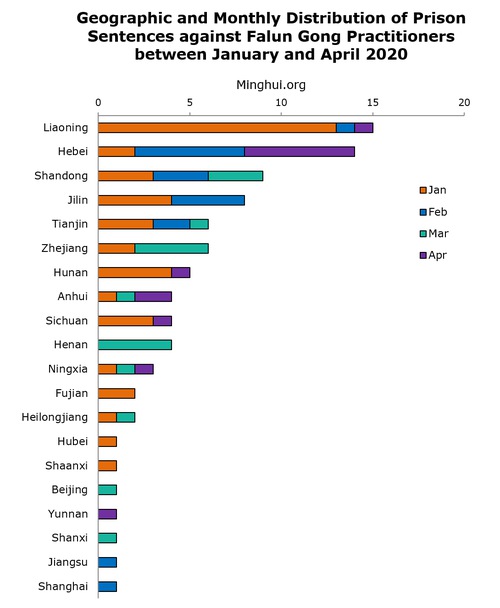 Terms as high as nine years were given out each month between January and March. The highest term in April was seven years, given to a 73-year-old woman. The average term for all 89 cases was 3.7 years.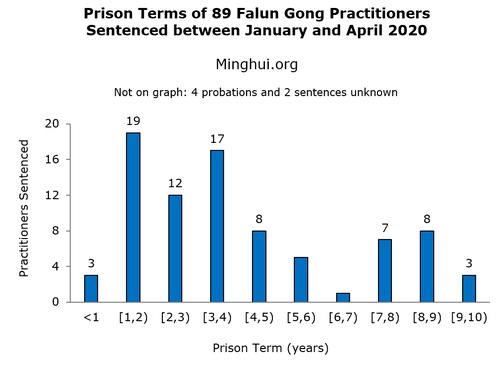 Most of the practitioners sentenced in April were women and three were in their 70s.
Several courts secretly sentenced a few practitioners without informing their lawyers. The practitioners' families only found out about their sentencing when delivering clothes to them at the detention centers and realizing that they were no longer there.
A Suihua City, Heilongjiang Province resident, Ms. Song Hongwei was still monitored by the authorities after she was released on April 9, 2020 from serving a 1.5-year term. The police demanded that Ms. Song turn in her ID and promised to issue her a new one, probably in an attempt to flag her ID for more advanced surveillance.
Below is a snapshot of some of the cases that occurred in April.
Hebei Woman Tried at Her Home and Sentenced to Four Years
Police and staff from Haigang District court broke into a woman's home on April 6, 2020, so as to hold a makeshift court hearing against her. Ms. Yang Suhua of Qinghuangdao City, Hebei province was forced to listen to the judge while police physically restrained her son.
The court staff returned to Ms. Yang's home on April 13 to deliver a verdict. She was sentenced to a four-year prison term and fined 2,000 yuan. She had ten days, between April 13 and 23, to file an appeal, and was scheduled to be imprisoned on April 24.
According to Ms. Yang's family, the police have been harassing her during the past few years and the authorities hastily sentenced her in order to close her case from 2016. She had been arrested for talking to people about Falun Gong, but then released due to her poor health.
In early 2017 when Ms. Yang was summoned to the police station, she realized that the police had fabricated the interrogation record against her and submitted her case to the judiciary system.
Ms. Yang's health began to decline as a result of the harassment and fear of being imprisoned. She was often in a delirious state and having difficulty walking.
The authorities continued the harassment and finally decided to sentence her in 2020, despite her health condition.
Tianjin Woman Secretly Sentenced to Six Years Without a Hearing
When Ms. Gao Yuming's family tried to visit her in the Wuqing Detention Center in late April 2020, they were told that she has been sent to Tianjin Women's prison to serve a six-year term for her faith in Falun Gong.
The local court reopened Ms. Gao Yuming's previous case and swiftly sentenced her without following proper legal procedure or notifying her family.
Ms. Gao's secret sentencing occurred shortly after she was arrested on February 9, 2020. She had been previously targeted in a group arrest of 37 Falun Gong practitioners on December 28, 2017 in Tianjin. Although she was released on bail on February 2, 2018, the police continued to harass her and threatened to sentence her to prison.
Fearing further persecution, Ms. Gao had gone into hiding, but was discovered by police and brought in as part of her latest arrest.
The original version of this article was published on Minghui.org:
https://en.minghui.org/html/articles/2020/5/20/185114.html